OMG!! The congratulations just kept pouring in after my previous post, I really have to be the happiest person on earth to have so many sweet people saying such kind things about me and wishing me good luck. THANK YOU each and one of you!!! *smiling from ear to ear* Mwah!
Today is a very special day for TCR - we released our 100th palette. Drumroll!!! It is also the first palette for the month of March, which also means we have a new sponsor, the Swedish company Pion Design!!
You can find our web shop at
www.piondesign.se
We sell our original designed scrapbooking collections to retailers as well as the end consumer.
We are very happy that we now have retailers in lots of countries. If you are looking for a retailer in your country, please contact us at jenny@piondesign.se and we will help you.
If you are interested in becoming one of our retailers we kindly ask you to register as a company customer in our web shop and we will get in touch with you
http://shop.textalk.se/en/login.php?tws_shopid=12164&tws_mode=n...
We are lucky to have a great design team with members from all over the world. Take a look in our blog
http://blog.piondesign.se/
to see their beautiful projects.
Hopefully our papers will give you many creative and happy moments!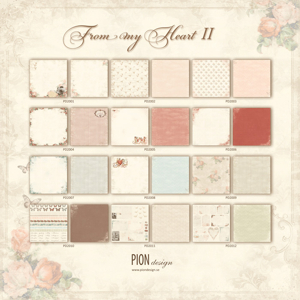 Many of you have come across the wonderful, soft and romantic papers of Pion either on internet or perhaps IRL too. "Pion" means peony and I often have English speaking people ask me how on earth it is supposed to be pronounced. First of all, forget anything remotely close to "P-Y-O-N" or "S-I-O-N". Remember, Swedish is a Germanic language where the letters are pronounced individually, not pulled together like in English.
So here goes: P-E-E-O-O-N. (the P-E-E is pronounced exactly like the English word spelled in the same way *wink wink* and the O-O-N exactly like S-W-O-O-N with a long O sound)
I made two pages for this 100th palette, but will share one with you today and the other one on Tuesday.
First the palette and inspo photo:
Yummie! just taste the names: Truffle, Forget-Me-Not, Rose Garden and Vintage Pink! Oh là là!
This is the first of my pages for the 100th palette:
First of all I want to say that the photo is not my own, I found it on internet. I just fell for the soft feel of the little chap sitting there by the sea in his denim dungarees.
The chippie thread spools are from Australian Maxine's Melange which has now closed down business. The lace is from Panduro as are the wooden buttons. I used a small doily from Meg's Garden to mist subtle patterns but it doesn't come across at all when photographed. Then I ripped it in pieces and tucked them under the cluster. The cherub with a string of hearts is cut out from one of the papers.
Several sheets with absolutely adorable things to cut out; banners, titles, letters, butterflies, Valentine's images like this one, vintage stamps, borders etc.
Today both hubby and I took a day off from work, switched off our mobiles and forgot everything about emails. The day started with de luxe breakfast at a very modern but really cosy hotel by the water in central Stockholm. It has been a sunny day with blue skies, but the March wind was very cold and nippy.
This is a view over the poshest street in our town; Strandvägen. Wherever you go in Stockholm, you see water and some more water and believe it or not, but around the next block you'll see - water!
Spring is definitely on its way but in the farthest covest the ice hasn't quite melted yet.
Now we're nearing the end of this post, so with these happy faces of husband and wife I say bye bye and thanks for your kind visit!
Toodelipip! have a wonderful wonderful weekend! xoxoxo Eila