Bonjour tout le monde! or hello everybody!
On 1 August the new autumn collection "Promenons Nous" or "Let's Take a Stroll" was released over at Les Papier de Pandore (LPdP). Here are the wonderful papers and the stamps for you to drool over: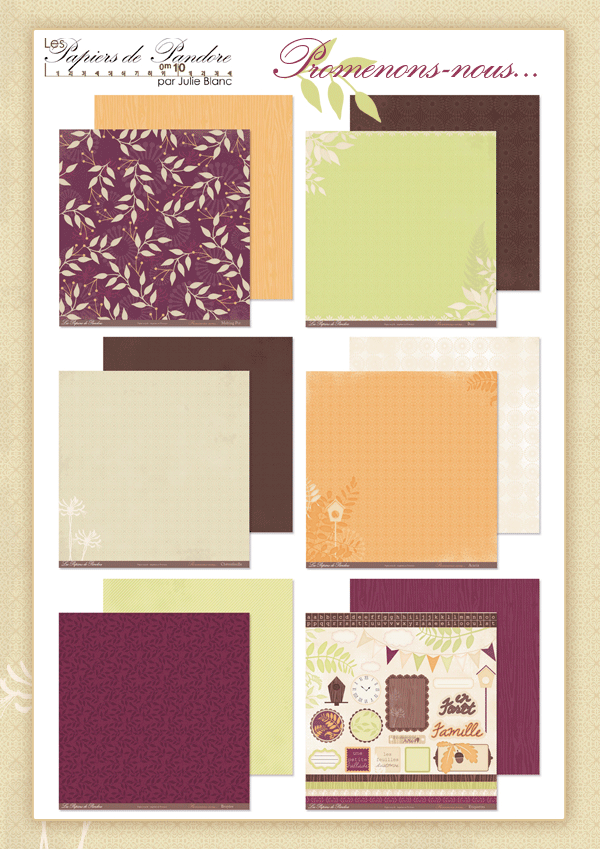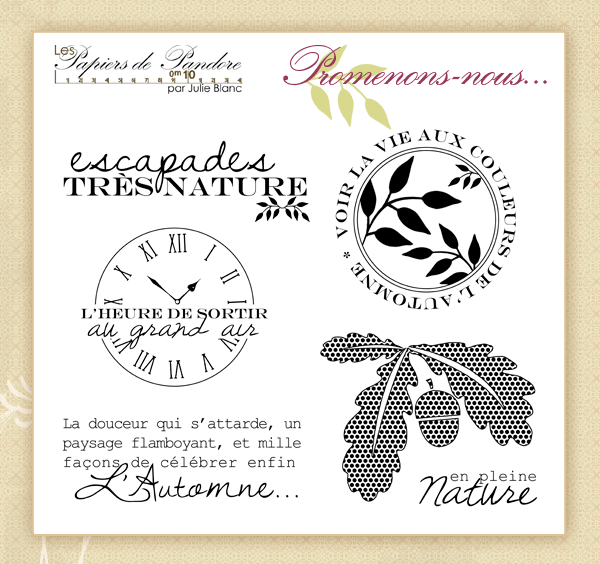 Here's the link that takes you directly to LPdP's website where you can see examples of Julie's own work and my page introduced today: click
HERE
LPdP also has a web magazine, or as they call it; webzine, published on the first day of each months. It's really easy to subscribe to, you just click on the link
HERE
, which will take you directly to the Webzine. On the right look for "Recevoir nouveautés et webzine" and add your email address in the larger box. Remember to tick both smaller boxes before pressing the OK. Mind you it is French, but the photos speak to any nationality! The followers are called "Pandorettes" - isn't that just so cute!
You can of course also click there directly from the header of the main website if you are a subscriber.
The papers are only sold through French stores, but if you're interested in buying them, you will find a list of suppliers on the main website, under the heading "Revendeurs"
HERE
Now to close-ups of my page for LPdP which I called "Autumn Leaves".
This is Miss T whom you've seen in several pages before, she's the daughter of my DH's cousin. The photo was taken on a beautifully sunny and crisp day in the autumn of 2010 in Skåne (or Skania in English) which is in the south of Sweden where they live. A perfect day to go exploring the forest and tree climbing together with her best friend and their respective families. You can see how the leaves have turned yellow and orange. What a coincidence that her knitted mittens are a perfect match for the papers!
The brown splatter is Nescafé (I lifted the idea straight away from TCR DT Naomi Capps) and I think it looks even better than ink or splotches of mist. At least it smells very good :))
All flowers and leaves are Prima. I like to cut off snippets from branches and vines to make them last longer. The doily from KaiserCraft is cut in half and placed on either side of the photo.
I named my page after the little tag with "les feuilles d'automne" - directly translated it means just that; "autumn leaves".
The acorns and the oak leaf are from my stash, I think they are from K & Company. The floral ribbon is a gift from my colourful scrappy friend Rebekah in Florida, thanks a bunch Bekah!
The alphas are cut out from the new papers and mounted on tiny squares of sticky pad.
A chippie flourish peeking out from the cluster. I chalked it brown and then used Stickles in different autumnal colours.
The large brown alphas were originally craft coloured and bought from Maxine's Melange. My alltime favourite chalk is Cat's Eye Chestnut Roan, here I have used Tim Holz Crackle Paint in clear Rock Candy for a finishing touch. Just love how beautiful the crackle turns out each time!
My summer hols are coming to its end and work starts on Monday but before I call high summer the quits, here are two invites for summer dinner that I would like to share with you. All materials used are from Danish designer Tilda.
It was the adorable asparagus that had me!
and the other:
I think the veggies are just the cutest!
Absolutely wonderful to have had you for a peek and thank you so so much for any comment you may want to leave! My next post will be on Friday when the new TCR palette is released. Take care!
xoxoxox Eila